Even the most of active amongst us need somewhere comfy to perch our bottoms and take things slow for a moment. Those of us who are less active, (or just frantically working on a dozen projects at once) definitely need somewhere cosy to create beautiful embroideries. However, there is a downside to stitching so much, what do you do with all of your finished cross stitches. Obviously you frame them and hang them around the house, but what if you've already done that with lots of pieces? Make smaller projects to give away as cards, or small useful things like bookmarks, tissue box holders, and small hanging ornaments. No doubt many of you have made cross stitch cushions, there is even plenty of kits out there designed for that very purpose.
Well, some people have got their creative juices flowing, and gone one step further. How about a chair?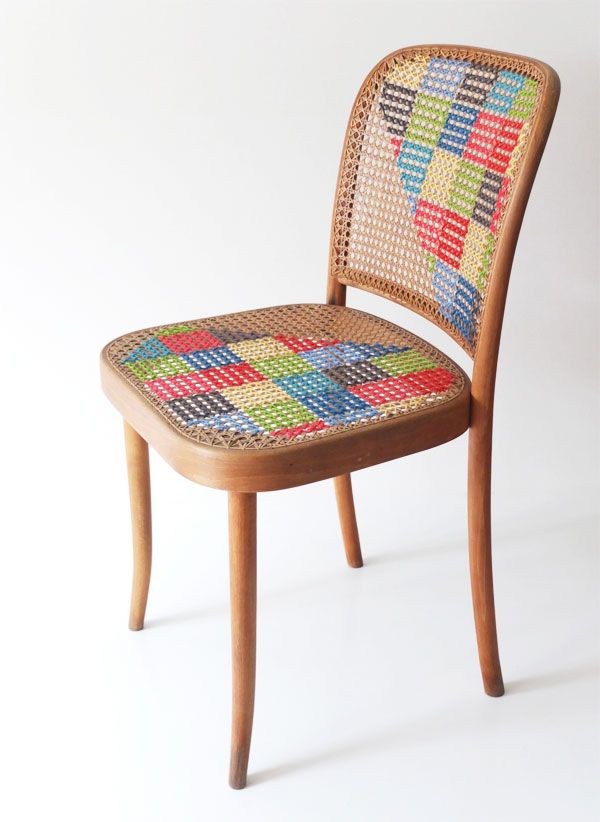 This geometric designed chair is the child of thrifty crafter Cintia, author of the fabulous http://mypoppet.com.au blog. I love her crafty ideas, and the best bit, she up cycles many items, rejuvenating them in unique ways to give them a new lease of life.
Vivian of Nordic Needle is another blogger and an avid cross stitcher. She has been stitching for years, and with all of that experience behind her she adapted patterns of bird cross stitches to upholster 12 dinning room chairs! There's a lady with a lot of stitching time and prowess!
Johan Lindsten is a Swedish designer who is giving vintage cross stitches a new lease of life by using them to create feature chairs. These look so modern and chic, they would look great in a thoroughly modern, minimalistic room. I absolutely love these chairs!
After all that inspiration why not have a go at making your own. Not sure you'll have time to make a full sized chair? Then check out this little cross stitch chair project at Cut Out And Keep to look after all your stitching accessories. This would be so useful, and will make a cute ornament when you're not stitching away!
Happy Stitching!
You might also like
Friday Finds: Chairs
Nice Ass: Subversive Cross Stitch
Work In Progress: Shh Now
Geeky Science Cross Stitch
Friday Finds: Denim Delights