In case you missed the title of this post, here I go again
I'm having a CLOSING DOWN SALE in my ETSY SHOP
In reality, this means I spent Saturday taking lots of pictures of my stock, starting to edit them on PhotoBucket (which for some reason has given several on my photo's a 'browned out' section along the bottom) and re-listing them on Etsy!
Why? I hear you say. Or maybe I don't, maybe it's just wishful thinking on my part.
Well, there are several reasons.
I have moved into a shared house, with a small bedroom so saying goodbye to my stock is a good idea.
I don't really have enough time to look for and go to craft fairs, besides which the times I have gone to craft fairs haven't been as successful as I'd like.
And finally, I am hoping to go traveling in the new year, so de-stashing and hopefully turning some of my assets into hard cash could help fund my dream.
So, what can you expect in my shop?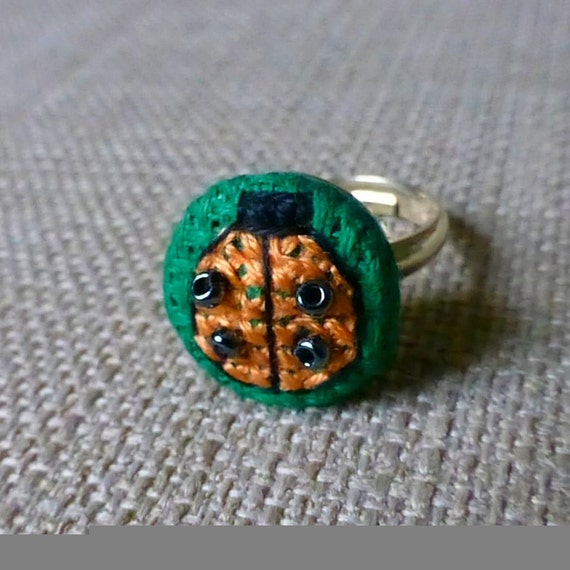 Well, those of you who have been following my blog for a while will probably know that one of the main items of jewellery I make are cross stitch rings, all of which are for sale for £4 or less, like this cute ladybird ring which is looking for a home to fly away to.
Of course, my cross stitch rings aren't the only things for sale, so why not head over to my Etsy Shop for a browse of the pendants, earrings, hairclips, keyrings and fridge magnets that are all also for sale.
More stock will be coming soon! I'm also still accepting custom orders (for as long as I have supplies) so if you want a different colour/ a different piece of jewellery with the same design, e.t.c. then please contact me!
Happy Sale Shopping!
You might also like
Cross Stitch Birth Samplers
Work In Progress: Shh Now
Pick Me UP: Positive and Amusing Cross Stitch
Free Cross Stitch Chart: Mum Roses Bookmark
Friday Finds: Masks