I'm off to visit my sister Jessica and her fiancé Danny this weekend, (in fact, it is quite likely that I am either on a train heading there, or busily chatting away whit them already) I really enjoying seeing my sister, she's just under 2 years younger than me and we've always been pretty close, she is definitely a good friend and not just my younger sibling.
As she's getting married in November, this weekend will include a fair amount of wedding planning, gossiping, and all round wedding and girly fun. However, one of things we're hoping to accomplish is to decide what wedding invitations to make. Both of us enjoy cross stitch - (in fact she's making some cross stitch wedding favours, but more about that later) and we've both made cards in the past, so it's only natural to make the wedding invitations ourselves. (Besides, it's another good excuse to craft and gossip over a bottle of wine, right?) While this weekend is all about making a mock up and working out how and what to make, I figured the first place to start was by having a browse at what's out there for ideas and inspiration, and I've no doubt that my sister and her fiancé have done some of the same. It made sense to begin my browsing on Etsy as all invitations on there are made by people, not machines, and are much more unique and interesting than standard shop bought invitations, so here are a few favourites.
The lovebirds are really cute yet also manage to be very chic, with a funky vintage style to them. Crafty Pagan can also customise the design to your colour theme (the listing has a useful colour chart) and also sells many other gorgeous wedding stationary.
This extremely elegant lace design is the creation of the talented Betsy Button. Each one is hand stitched so make sure you leave plenty of time, but the sophisticated beauty of these invitations will more than make the wait worthwhile.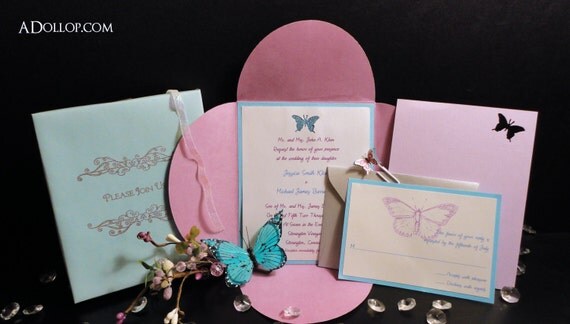 A Dollop of Inspiration are behind this colourful butterfly design. The invitation opens like a blooming flower. The pink, lilac and blue shades compliment each other in a lovely way to finish this beautiful design for a spring wedding.
This design had to be featured because the names are those of my sister and her fiancé! What a coincidence! The unusual jam jar design is very rustic, and this would be the perfect invitation for a simple, rustic wedding. The faded colours also add a touch of vintage to this invitation by Aesthetic Journeys.
Invites Couture are the shop to browse for a super luxurious extremely memorable way to present your wedding invitation. This silk wedding invitation box is embellished with a crystal and pearl brooch, and has several slots inside for the invitations. It is customisable to any colour.
Happy browsing!
You might also like
Valentines Gifts on Folksy
Pendant Experiments
Friday Finds: Vintage Pin Up
Something Special...D 'n' J Designs
Project Tutorial: Embroidered Flower Birthday Card